Watford-Novgorod Friendship Society
---
Coming events
Monday 3 February 2020
Sisters in Arms a Century Apart
Ruth Sobel will talk about Maria Bochkareva (1889-1920), a Russian soldier in WW1 who formed the Women's Batallion of Death, and Nadezhda Durova (1783-1866) who was a soldier in the Russian cavalry during the Napoleonic wars. Both remarkable women!
7:30 pm at St Luke's Church, Langley Way, Watford WD17 3EG.
Member £3. Non-member £5. Refreshments served afterwards. Visitors are welcome.
Tuesday 24 March 2020 [CANCELLED]
Russian Meal at West Herts College
A special meal for members and friends. Places must be booked in advance.
Wednesday 8 April 2020 [CANCELLED]
Andrei Tarkovsky
A talk by Mike Taylor on Andrei Arsenyevich Tarkovsky, a Russian filmmaker, writer and film theorist "who is widely considered one of the greatest directors in the history of cinema".
7:30 pm at St Luke's Church, Langley Way, Watford WD17 3EG.
Member £3. Non-member £5. Refreshments served afterwards. Visitors are welcome.
Wednesday 27 May 2020
Annual General Meeting
The Society's AGM will be followed by memories from the visit to Watford in 2019 by a group from Novgorod.
7:30 pm at St Luke's Church, Langley Way, Watford WD17 3EG.

Monday 29 June 2020
My Cossack Family
A talk by Caroline Walton.
7:30 pm at St Luke's Church, Langley Way, Watford WD17 3EG.
Member £3. Non-member £5. Refreshments served afterwards. Visitors are welcome.
The Society
Watford-Novgorod Friendship Society (WNFS) was set up in 1995 with the aim of bringing together all those in Watford interested in promoting friendship with Veliky Novgorod. The town twinning was established in 1984 and has resulted in many exchanges and visits in both directions.
Activities
The Society's activities include talks on subjects such as Russian history and culture, the publication of a small, occasional magazine, Courier, social events including dinners with Russian or East European food and wine, occasional parties, and liaison with the English Club in Veliky Novgorod.
The subjects of our varied talks have included "Our visit to Novgorod", "Roaming around Kamchatka", "The Novgorod composers, Rachmaninov and Arensky", "Russian lacquer boxes", "Matryoshka dolls (Russian nesting dolls)", "From the USSR to Russia …. and Back Again", "Anton Chekhov: his life and works"; "Belarus: its fascinating history", "Russian political posters before and after perestoika" and "You'll die laughing" (on Russian humour), "The Lykovs: a family of Old Believers lost to the modern world" (30 April 2019) and "Two remarkable women from Novgorod" (3 June 2019).
On a number of occasions, usually alternating at two-year intervals, some members of our society visit Novgorod, or Russians come to visit Watford. Thanks to their hosts, visitors get to see more of life abroad than tourists usually do.
A group of visitors from the English Club in Novgorod was in Watford from 16 to 25 July 2019. Among events organised for the visitors and our members were a welcome lunch party on 17 July, a day trip to London on 18 July, a lunch on 19 July, and a day trip to Kent on Monday 22 July.
---
Novgorod and Watford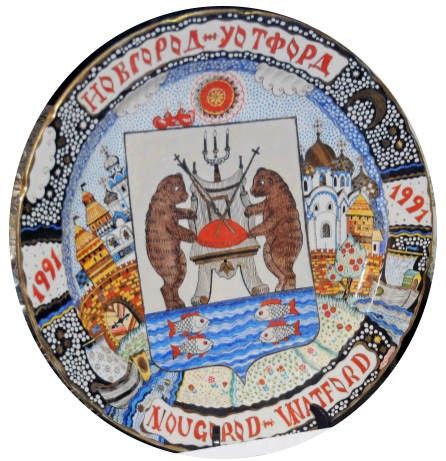 A plate to mark the Watford-Novgorod link. It was featured in a BBC programme in 1991.
The full name Veliky Novgorod means "Lord Novgorod the Great". Veliky Novgorod has about 200,000 people, about twice Watford's population. It lies in Russia, approximately 120 miles south of St. Petersburg. It is to be distinguished from Nizhniy Novgorod (Gorky) which is located on the Volga, to the east of Moscow.
The first recorded mention of Watford was in the will of Ethelgifu (wife of Edmund, a Saxon King, grandson of Alfred the Great) in 946. Before that time, Watford was part of the Manor of Cashio, which is mentioned in the Doomsday Book.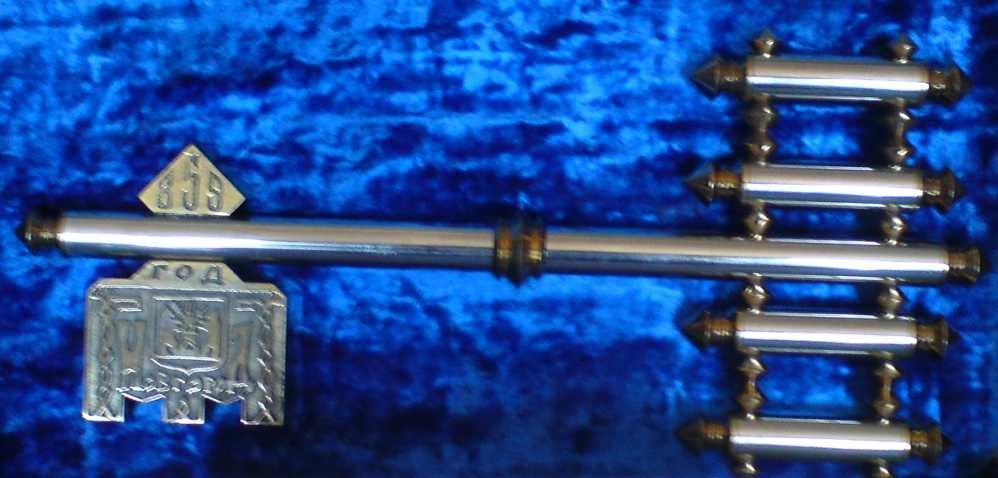 Key to the City of Novgorod, presented to the Borough of Watford to mark the inauguration of the link between the two towns, 17th March 1984.
Contact
To contact WNFS by e-mail: enquiries.wnfs # gmail.com
The address is shown in a way intended to deter web "spiders" that collect addresses to send advertisements (or worse). Replace the "#" with "@" and omit the spaces!
Membership
Membership of the Society is open to all. We are glad to have several members who speak Russian, but most members do not and are not expected to. If you are interested in joining the Society, but not sure, you are welcome to come to one or two meetings as a visitor first.
The annual subscription is £10 or, for a student, £5. To join, please write to the Society (at the above e-mail address), giving your name, address including postcode, e-mail address and optionally your telephone number. We will then let you know about payment by cheque or bank transfer. Alternatively, you can join when you come to one of our meetings.
---